House Painting in Clackamas, Oregon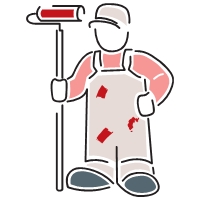 Looking for a House Painter in Clackamas, Oregon? Yes? Congratulations, you found one! But you didn't find just any old house painter. Yaskara Painting LLC has been proudly painting homes in Clackamas, OR since 2008.
---
Call for a FREE Quote
---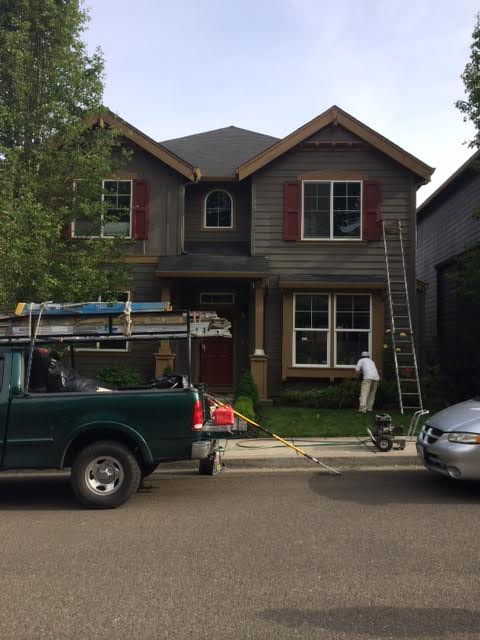 Painting the exterior of your Clackamas house protects it from the elements, helps retain home value, and makes it presentable. Interior painting can brighten walls and ceilings and lift one's spirits.
When looking for affordable high-quality house painting Clackamas homeowners can count on, no one beats Yaskara Painting LLC's experienced painters. If you have ever tried painting your Clackamas home, you know that its not an easy task.
Painting houses is both a skill and an art. That's why Yaskara Painting LLC's professional house painters must have several years of experience painting houses in and around Clackamas, OR and be familiar with Clackamas's various residential architectural styles and building materials used in house construction over the years.
---
Call for FREE House Painting Quote
---
WHAT CUSTOMERS ARE SAYING:
5★★★★★ - "Artemio and his team are fantastic! Efficient, clean, and respectful of our space while painting the inside and outside of my house."

Donna S in Battle Ground, WA

2022-05-31

5★★★★★ - "I can actually say I love my house color now, and the guys that came out did an amazing job! They were professional and very friendly, not to mention hard workers. I will suggest Yaskara Painting to anyone I know looking to get painting done."

Tamara Talavera

2021-04-22

5★★★★★ - "Yaskara just finished our 2 story home and did a beautiful job! Very professional, polite, and fast! Highly recommend these guys!"

Jenny in Tigard, OR

2020-07-31

5★★★★★ - "Yaskara Painting is phenomenal!! We had them repaint the outside of our home, shop and shed last spring. They did such a great job we had them come back and repaint the whole inside of our home. They are friendly, reliable, respectful, trustworthy, fair, I could go on and on about them. If anything came up they were quick to come out and fix it. Artemio responds quickly and I just can't say enough about him and his company!"

April in Battleground, WA

2020-06-15

5★★★★★ - "We just had the exterior of our house painted by Yaskara Painting and we are so pleased. They did an amazing job, were friendly and listened to our suggestions. I highly recommend Yaskara for any of your painting needs!"

Melanie in Ridgefield, WA

2019-06-17

5★★★★★ - "Yaskara owner, Artemio Morga and his crew painted the interior of our 3,100 sq ft home and didn't miss a thing. His crew was very friendly, professional, fast, and very easy to work with. Any questions my wife or I had or something that needed to be addressed were done on the spot. He and his crew kept up to date with progress or any possible problems that they needed to address, of which there were a few. His daughter, Yaskara even comes out to lend a hand when needed. His price to do this was very reasonable, so much that we hired him to paint some of the interior of the house we were in the process of selling. I'm now on his books to paint the whole exterior of our house next month. Yea, he's that good! I highly recommend Yaskara Painting!"

Luciano Campagnolo in Vancouver, WA

2022-07-28

5★★★★★ - "Artemio and his crew are amazing! They did a great job painting my interior walls and trim! I am also scheduled to have the outside of my house painted in the spring. Very professional, reasonably priced, and adjusts to changes (my last-minute changes)! Highly recommend Yaskara Painting!"

Donna in Battle Ground, WA

2022-02-03

5★★★★★ - "Artemio and his crew did a beautiful job painting our old tired wood kitchen cabinets. They look fabulous. They started the job on schedule and finished very quickly. We couldn't be happier. Call them. You won't be disappointed."

Jerry & Donna Lund, Ridgefield WA

2021-06-04

5★★★★★ - "Artemio and his crew were fantastic! Always on time, thorough and clean. Very responsive to every question or request. I couldn't be happier with the transformation on my old dingy oak cabinets to the bright new white look. Thank you, Artemio, Rene' and Juaqin!!!"

Paul Roscoe

2021-03-22

5★★★★★ - "We had our kitchen cabinets painted inside and out. The uppers white and lowers a grey tone. They do an exceptional job of covering traffic areas, masking and Isolating areas from dust and overspray. The staff are very courteous and do quality work at an affordable price. We also had them come back and texture a wall, same quality work. They put up a wall of plastic sheeting to minimize over-spray. I highly recommend Yaskara Painting LLC."

Ken Uyesugi

2021-03-18

5★★★★★ - "I am so happy with the completion of my painting project. Artemio is very knowledgeable about his craft of interior painting. His crew always arrived on time and went right to work. They were so cooperative with each other and so polite. They always answered my questions and kept me informed as they progressed through the cabinet, door, trim, and wall painting."

Theresa Ryan

2021-03-15

5★★★★★ - "We couldn't have asked for a better experience! When we came home each day, their paint was put away, and we weren't tripping over paint supplies. The crew was kind, worked very hard, and even finished early! We will absolutely use them again."

Ann Kemnitzer in Oregon City, OR

2020-12-14

5★★★★★ - "Artemio and his crew transformed our dated oak kitchen cabinets to look brand new.They also painted the kitchen walls and we're so happy with their work. We highly recommend them!"

Rob and Elizabeth in Vancouver, WA

2020-11-24

5★★★★★ - "A highly professional team did a great job on our home. They pressure washed, taped, and masked the windows, painted and cleaned up in a way that left us confident in the quality of their work. Highly recommend Yaskara Painting Co."

Terry Ogan, Clatskanie, Or.

2020-09-10

5★★★★★ - "Artemio was great to work with, he provided us with great service at a fair price with quality materials. His crew was friendly, efficient, and used great attention to detail. Very happy with how everything turned out."

Jason in Vancouver, WA

2020-06-01

5★★★★★ - "Artemio and his crew of Yaskara Painting were beyond great. After getting seven bids, theirs was the most price competitive and the painting job was superb, even where intricate painting was involved. The painters arrived on time and were very polite and professional. Cleanup was complete with zero mess."

Howard and Susan Skaug in Lake Oswego, OR

2019-10-09

5★★★★★ - "The crew was efficient and did a great job painting our entire home! They used quality paint and were great on price."

Crystal in Vancouver, WA

2019-09-11

5★★★★★ - "Arterio and his contractors were on time, professional, answered all questions, and provided advice. The painting was perfect and the price competitive. We highly recommend them."

Ginny Ann & John Nichols in Vancouver, WA

2019-08-27

5★★★★★ - "We had our home painted by the Yaskara Painting team. They were so professional, paid attention to detail and went above and beyond to finish and please us with our project. I would highly recommend this company, the team works together so happily you can tell they like working with each other."

Terry in Vancouver, WA

2019-08-26

5★★★★★ - "In January, we had Yaskara Painting come in and paint our old honey oak base trim, window trim, cabinets, and doors white, along with painting various rooms in our house. They did a beautiful job. We had considered doing it ourselves, but we are SO glad we hired Artemio and his team. Now that we know all that went into it and imagining the results we would not have compared to Yaskara's results...so, so glad we didn't do it ourselves.
They were great to work with, very nice guys, and got the job done in a fairly short amount of time. We had received bids from multiple companies and read many reviews, and based on their bid and great reviews chose them. Almost 2 months later...still so happy we did!"

Mona in Vancouver, WA

2019-02-20

5★★★★★ - "Yaskara Painting went above and beyond when painting our house and very difficult hardwood deck...The deck was especially difficult and the extra effort they put into it is really appreciated....I would highly recommend these folks"

Bob Mcmillin in Oregon City, OR

2019-02-14

5★★★★★ - "Artemio and his team painted the exterior, a small bath and interior walls in our house in Kalama. We cannot say enough good things about their timeliness, professionalism and attention to the smallest details in preparing, painting and cleaning up afterward. We are thrilled with the results and will definitely use them again."

Jim and Judy in Kalama, WA

2019-01-16

5★★★★★ - "We recently had six new interior wood doors, door jams, & baseboards installed in our 1923 English Tudor style Portland home. Tried for weeks to find a contractor who would stain and seal the new wood with no luck. Found Yaskara through Home Advisor and I am so glad I did. Yaskara did a wonderful job blending the stain on the new wood with the rest of the wood in the house. Thank you Artemio, Jose, Steve and Jose #2. You were all a pleasure to work with and the quality of the work is fantastic."

Jayne in Portland, OR

2018-09-25

5★★★★★ - "Artemio and his team did a fantastic job of painting our home! Artemio was very quick to respond to my call and scheduled time to see us that same day! He is very knowledgeable about paints and gave some excellent recommendations on the use of our accent color. Our home was painted within 2 weeks of our initial contact with him. We love it and would highly recommend their services! Quality, professionalism, timeliness, and very nice staff!"

Pat & Deb in Vancouver, WA

2018-09-24

5★★★★★ - "I recommend these guys. My house looks great, all the people I spoke with (Steve and Artemio) were friendly and respectful, and quick to respond to questions). The team of 2 who worked on my house, were fantastic and did fine, detailed quick work, I believe they were Jose and Sergio. Excellent company, will use again."

Joe in Portland, OR

2018-07-23

5★★★★★ - "They were able to get the whole house painted quickly and well."

Eve in Portland, OR

2018-06-18

5★★★★★ - "Working with Artemio and his crew exceeded my expectations. We had a large 5,000 SQ ft home "Cape Cod Style" with a lot of detail. We hired Yaskara to paint the exterior of our home. Their expertise, attention to detail and professionalism was awesome! They worked hard, finished on-time and the finished result was excellent. I would highly recommend Yaskara Painting!"

Jim Parker in Camas, WA

2018-06-14

5★★★★★ - "Yaskara did a beautiful job on my master bedroom! Eddie and Jose arrived on time and worked so quickly: I couldn't believe it when they were finished already at only 3:30! They painted carefully and even dealt with a shower wall that was very difficult. It looks fabulous! The price was great: I would definitely hire them again!"

Diane in Portland, OR

2018-06-14

5★★★★★ - "We are so pleased with the results!! Our house and deck look great!
It was a pleasure working with Artemio and his crew. We highly recommend them for all your painting needs."

Barbara in Portland, OR

2018-06-11

5★★★★★ - "Artemio's crew did such a perfect job on our house, detached garage, and large barn, that we asked him to do our daughter's house. Once again, the painters were thorough, used top-notch materials, and were amazingly quick in evaluating, estimating, painting, and cleaning up. They cheerfully accomodated some unique situations and we love their work. I recommend them highly."

Kim Worrall in Rainier, OR

2018-05-25

5★★★★★ - "Did a wonderful job on our 2 story home. Great people went above and beyond."

Julie Zemp in Kelso, WA

2018-05-14

5★★★★★ - "Had my family room painted. The painter did a great job and was very conscientious. They were easy to work with and prompt in getting back to me, and came when they said they would"

Patty windon

2018-05-14

5★★★★★ - "So easy to work with and very conscientious. I would recommend them to anyone."

Anonymous

2018-05-14

5★★★★★ - "Very impressed. Jose came to our house at the time that was stated. He was the only painter on this job. We have a normal size ranch style house. Jose finished the job same day. He kept me informed of what he was doing and said he was going to stay and finish it today. I thought he was crazy, but he did it. Twelve hours later, he told me he was done and cleaned everything up. There was no mess just a brand new looking house. AWESOME JOB. I would hire them again."

Teresa in Forest Grove, OR

2018-04-23

5★★★★★ - "They just finished painting my house and did a great job. The crew was friendly (thx Jose) and answered any questions I had. Artemio communicated with me throughout the process as necessary. Would & will recommend them to anyone I know looking to get their house painted."

Dennis B. in Beaverton, OR

2018-04-23

5★★★★★ - "We hired Yaskara after seeing the work they had done on a relative's house, and we were not disappointed. We had them paint the inside and outside. Not only was the work done quickly and professionally, we received much appreciated guidance concerning paint colors and paint types. All of the workers were friendly and considerate. Besides filling all the old nail and anchor holes in our drywall, they were able to repair several areas that were significantly damaged. We were also able to get some small repairs arranged for the siding on the outside of the house. It's like we have a brand-new home now. We are very happy."

Ken Helms in Kelso, WA

2018-04-23

5★★★★★ - "Yaskara painters were timely, efficient, professional, very detailed, and their work was excellent. I am particularly happy with their cleanliness while working. I would hire them again for another project and highly recommend their service."

Eric Grell in Woodland, WA

2018-04-23

5★★★★★ - "Yaskara painters were timely, efficient, professional, very detailed, and their work was excellent. I am particularly happy with their cleanliness while working. And even after the project all things were left in good order. I would hire them again for another project and highly recommend their service. Thank you Yaskara"

Jennifer Duncan in Portland, OR

5★★★★★ - "The painters did excellent work and they were very friendly. Detail oriented and answered any questions we had. The price was reasonable and the quality of work was great! We plan on using them again the next time we need our house painted."

Kevin Newell in Woodland, WA

5★★★★★ - "Quick response when called for bid, came out just a day or two later! We got a few other bids and these guys came in at a great price! Fast, hard, nice workers!"

Anonymous in Vancouver, WA

5★★★★★ - "Perfect job & better than expected. Very responsive and more than willing to go the extra mile to make everything right. We highly recommend them."

Carol B in Vancouver, WA

5★★★★★ - "We requested a couple of quotes via online websites. Yaskara Painting responded promptly, gave us an appointment time when a walk-around for an estimate could be done, and showed up promptly at the scheduled time. I made a mistake regarding the full work that needed to be done, but it was not a problem for Artemio to come back out, and again he was here right when he said he would be. The work was completed expeditiously, and I have to say that this was one of the best customer service experiences I've had. They matched the various colors needed from painted exteriors that were 20+ years old. Everything looks great! Artemio and his crew did what they said they'd do when they said they'd do it. Everyone I interacted with was polite and friendly. I'd easily choose Yaskara Painting for my next job, and I'd recommend them wholeheartedly to everyone."

Jim in Vancouver, WA

5 ★★★★★ - "Yaskara painting did a wonderful job painting my 3-story house. They were prompt and efficient, yet thorough and detail oriented with trim work. Artemio's price was also very reasonable compared to the other bids we received. Finally, I appreciated the color consultant from Sherwin Williams who helping me pick out a beautiful color combination for the house."

Sarah Magnano in Portland, OR

5 ★★★★★ - "This is the second full house exterior paint job done for us by Artemio and his crew. They are professional and work quickly. The paint job is great, and the team pays attention to detail. I have read the other review and they are true. We will call on them again. We are very happy to recommend them!"

S Davidson, 9/2016 in Ridgefield, WA

5★★★★★ - "Yaskara did an excellent job painting my house, so much so, I had them also paint the deck. They had it completed within two weeks of first contacting them for an estimate. Would highly recommend and will likely use them again in the future. The guys were all very courteous and accommodating."

Denise Armstrong

2015-07-16

5★★★★★ - "Very impressed with Yaskara painting and the owner Artemis. Artemis met me on short notice on a Saturday. He looked at what I wanted and gave me a price right there on the spot. Artemis gave me an option on when he could do my house and said it would be done in two days. He started the next day and by Monday afternoon the entire paint job was done. When we went in to look at the job, Artemis looked the place over with me and fix any spots that did not look right at that time. I am very happy with the job he and his crew did. I could not recommend a more professional and honest contractor. He comes with the highest recommendation I can give."

David Wright

2015-05-05

5★★★★★ - "After trying to paint our heavily textured ceiling by myself.....I gave up and called Yaskara! They did a wonderful job on our ceilings and our family room walls. They were fast, courteous, professional and reasonably priced! I am thinking about all the other rooms in the house I would like to have done! Thank you so much!"

Treca Selkregg

2015-05-05

5★★★★★ - "Arterio and his assistant Jose, painted the interior of my family room, entrance hall and and the window trim and baseboards. He arrived on time and if delayed called to let me know. He suggested a new product of an alkalyd and water based paint for the trim that would work as well and had quicker drying and lower vocs. I was planning on using a oil base paint. He and his assistant covered and taped everything and patched and caulked where needed. They are very professional and polite. I would not hesistate to hire them again."

Sue Chumrau

2015-01-05

5★★★★★ - "This is our house! We LOVE the new color! Artemio and crew did great work from helping pick the color...the power washing, the painting, to the finishing touch ups. If you ever want to know what the weather will be for real...ask these guys! My husband and I were very impressed with their professionalism and work! We will be hiring them to paint the inside of our house after the holidays!"

Midge Dlouhy Ruiz

2014-12-05

5★★★★★ - "My name is Peggy Short. I had your company out to do the inside painting of my house - the crew were very polite and good workers. I would have them again to paint."

Peggy Short in Portland, OR

2014-11-05

5★★★★★ - "Thanks to Arterio and crew for the great job on my house. Hope to business again in the future."

Jim Buchanan

2014-09-29

"Art painted my 2 story house @ 1304 NE 171st St. in Ridgefield, WA. Due to weather (rain) it took longer than planned. But he was easy to work with. And did an excellent Job I would recommend him highly.."

Patricia Turpyn

"Yaskara painting this Company has the nicest and helpful people that work for them... They have an upbeat attitude and enjoy there job which shows by doing there best for the customers!!! I would recommend them to all my friends .."

Dampier Jean in Portland, OR
---
Call for FREE House Painting Quote
---